Black Yogi Bear Limo Fleet
(Newly owned by Lucky Heaven Limousine, LLC)
Welcome to Black Yogi Bear Limo Service, the Ultimate limo service in Northern California.
Black Yogi Bear Limo is a premier limo with an extensive experience in providing town car service / sedan service (3 to 4 passengers), stretch limousine services (6 to 10 passengers), SUV service (upto 6 passengers) to and from Mineta San Jose International Airport, i.e., SJC Airport, San Francisco International Airport i.e., SFO Airport and Oakland Airport i.e., OAK Airport. We also provide you limousine and car services to or from Atlantic Aviation, Jet Center or any private airport in SF bay area in Northern California.
Please call: Toll free at 1+866-876-9644 or Call (408)365-8500.
Corporate Account - Business or Personal
Do you want you car service and want to use your corporate travel account with us so open an account and keep tracking your limo reservation receipts on-line? Click here the following link to register with us and open an account Register.
Please don't forget to Read Our Terms And Conditions.
If you are already registered with us, so simply log on to your account by clicking at the following link : Log In to Your Account.
You can also make online reservation directly for your car services, sedans, Stretch Limousines, or SUV please click at the following link:


Do you want to pay by credit card? Please click on the following link and fax or email back to us. Click here:Credit Card Authorization Form.
You can also email us and we will try to reply you as soon as possible Click here to E-mail Us
Black Town Car / Luxury Sedan - (3 to 4 passengers)
We offer you black luxury lincoln town car/ luxury sedan. This car is L-series lincoln town car with black leather interior and black exterior. This town car can hold 3 to 4 passengers only. This car is perfect for airport car service to any of the airport in bay area like SJC SFO OAK airports. These lincoln town cars are also used for point to point transfer, one way transfer and also for charter services for all kind of events like wedding, prom, night out out on the town, bar hopping, birthday, sports event, concert or even for wine tour etc.
White Stretch Limousine Service (6 to 10 passengers)
We have beautiful white stretch limousines which can hold 6 to 10 passengers only. Our lincoln made stretch limousine have black interior with glittering neon light on ceilings with beautiful bar inside. These limousines are perfect for your wedding day or prom night.
People also love to use these limousines for wine tour, bar hopping etc. These limousine also goes out for sports events and concerts. If you want to give somebody a surprise on their birthday or anniversay, call us at 408-365-8500 and experience the best ever limousine ride with professional chauffeured service.
SUV Service - Lincoln Navigator (6 to 7 passengers)
We have beautiful black and black Lincoln Navigator SUV's, which can hold 6 to 7 passengers only. This SUV is perfect for your corporate travel or any executive meeting purpose. If you are arriving at San Francisco Airport, SFO Airport, san Jose Airport, SJC Airport or Oakland Airport, OAK Airport, just dial (408)365-8500 or make online reservation and we will send you a confirmation for your arrival and we will pick you up at the airport. Whether you are visting Silicon Valley for your business travel or you are looking for wine tour or charter services for few hours then you are at the right place, simply call our toll free at 1+866-876-9644 and expect the best, reliable limousine, town car or SUV service.
New- Lincoln MKT Town Car (3 to 4 passengers)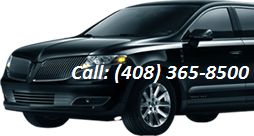 « View Sitemap »
---
Airport Transportation Services